Post by gaptooth on Oct 10, 2018 10:30:04 GMT -5
I've been working a lot on
Twisted Tunnels
lately.
I've gotten a lot of solid critical feedback on the game from playtesters and tough-minded readers, and I'm closing in on the final stretch of writing.
So, what would be the most helpful or interesting stuff to finish up first? What would you like to see in the next playtest draft?
Here's a summary of what is done and pending as of a few weeks ago.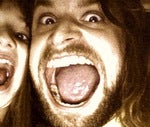 I've been updating it almost every day lately, cleaning up stuff, adding stuff I've excavated from my scattered notes, and mainly fixing and clarifying stuff based on the feedback of a handful of playtesters and other close, critical readers.
I need to put in more examples overall, but besides that, here are my current feelings about each section:
Character Creation
Done.
Skins: Warrior, Warlock, and Maverick
Basically done. I plan to add "library content" at the end for the warrior's secret weapon techniques.
Gear
Done.
How to Play
Done.
Trekking and Delving
Basically done. I do have a sidebar note for Stealth that is longer than the actual rule. I don't want to go overboard, but "dungeon fantasy" covers a HUGE variety of mismatched expectations, and this is one area that really sets TT (and OSR in general) apart from other games.
Struggle
Basically done. Combat in this game is atritional like classic T&T, but there are several ways to get your enemy defenseless, which produces much more decisive and impactful results right away.
The Dungeon Spiral
GM section. This is the roughest section, and it needs a rewrite for consistency and clarity.
Monsters
Basically done. I do intend to add example monsters in the sidebars to demonstrate the different principles.
How to Host a Combat
Doesn't exist yet. The idea is that it will cover in a step-by-step fashion what the referee and players do
at the table
to order the conversation in combat and other complicated conflicts. With examples.
Spellcraft + Spells
Done.
Badges
"Badges" are my version of level titles in 1st edition. The big difference is that you earn them based on what happened in your adventures—you don't just arbitrarily become a
marquis
. Since badges are highly situational and specific to the unique events at each table, these will just be examples, and I want to write more.
I also want to write a section for "Your First Dungeon" walking the GM through how to create a sample dungeon.
Since then, I dumped a bunch of ideas to the Monsters section that needs to be consolidated and re-written. I also added a section on Safe Havens that focuses on what to do if you escape from the dungeon.
What would you like to see "finished up" in the next playtest draft?