Post by apn on Apr 18, 2022 17:47:51 GMT -5
OOC Good start. Went to post the first thread of the IC section and got booted off the site losing all I'd typed. Never mind, start again...

Through luck
(be it fortunate or ill) you have found yourself in the steaming hot coastal town of
Jepistra
which lies on the equator and in the
Dragons Claw bay
of the continent of
Rrr'Lff
on
Trollworld
.
The place is a lawless frontier settlement of several thousand though that depends on the current flow of trade through its gates and harbour. Right now the crews of more than twenty vessels have congregated in its streets.
Some have come to trade, others to drink and rest. Some have less... noble aims. Jepistra is as much a home to Pirates as it is to Merchants and their crews. None call it home really, more a place to stay, spend, drink and sleep... or do other things in the night. It falls under the jurisdiction of the City state of
Jepik
. That place is famed for its white marble buildings and smooth stone roads and for the great wealth of its inhabitants.
You can't afford to live there.
Having begged, borrowed or stolen enough money to get you started on an adventuring career you then had to work your way here, be it through hefting crates, pulling an oar or acting as hired muscle for little to no pay and poor food. Still, the journey went without incident and now you find yourself taking in the sights, sounds and smells of this seemingly chaotic and lawless place.
Everywhere you look something is going on. Children dash about, street urchins in rags and you realise they aren't playing - they are distracting for their fleet footed friends to dart in, slice the strings of a purse and dart away with the chidlren skipping and laughing as they vanish into crowds. Hobb weed rises in clouds as Hobbits gather in groups, chatting and watching the crowds of Merchants, Sailors and other travellers as they make their way through the crowded streets.
The buildings lean in over the dirt or cobbled streets. Animals squawk, bray, moo or bark somewhere and it seems in this place you can buy anything you want - for the right price.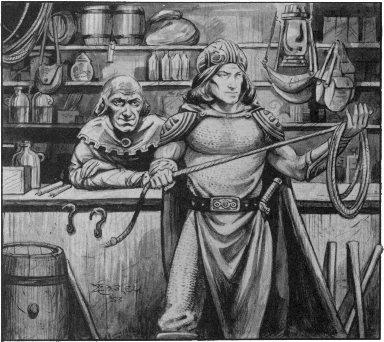 Having haggled (successfully or otherwise) at a Merchants you passed, you now find yourself on the edge of the town square where a large Tavern (which was previously three Taverns) lines along three of the squares' edges. Hundreds of patrons drink, cheer, shout, argue, fight and smoke amongst other things. The barmaids smile whilst balancing a dozen steins and deftly dodge wandering hands. Bouncers clad in black leather armour threaten to brain anyone getting out of hand and the whole place looks... too much to take in!
You're about to turn away when you hear a voice call out...
"...and that's not all!"
The voice has a curiously magnetic quality and a dozen rough and ready types in all manner of garb - some armoured, others in robes, some merely in sack cloth - listen to the man in his small part of the town square as he shouts to be heard over merchants hawking their wares.
You (and a dozen others) see a middle aged man running to fat but dressed in fine quality clothes with gold rings adorning his fingers. His face is ruddy and weathered, the handlebar moustache below a prominent nose and the eyes twinkling mischievously beneath bushy brows. His clothes are bright and clash horribly. You can only assume he dresses in the dark or when drunk or if he wants to stand out – a red and white striped tunic, blue silk leggings, knee high black boots and a short purple velvet cape on his back rounded off with a yellow Cavalier Style hat with a feather in it. He looks...
ridiculous
!
"I am
Rathmere
... the Ridiculous!" he declares, puffing from a long hobb-weed pipe and blowing circular smoke rings into the air to the side. His voice is deep and has a compelling quality. No one is walking away.
"Time is short and this pitch will be to the point. The Merchant fleets of
Sonan Ie
need protection. They strike out from that Island to not far south from here at the port town of
Jepistra
, and the crews swap from loaded boats to the empty ones to escort them back to be refilled. The loaded fleet needs hired swords to act as protection. You get your
meals provided
,
a place to sleep
and
passage to Khazan
. You are also
paid
.
Twenty gold pieces per day
, each,
doubled for any combat days
and a share of spoils. Might not sound like much but for those that can't add it's a two week journey and you'll be looking at around
three hundred gold pieces
for a mostly quiet journey."
"Mostly quiet?" barks a voice from the left somewhere.
"Aye. The Sonan Ie fleet is a fat, juicy prize fer pirates, make no mistake. They have some battle mages to discourage the scurvy dogs but steel, sorcery and stout hearts are needed to provide further discouragement."
"Sounds like its dangerous!"
"Aye! It is! It's also easy money fer the likes of you. You get passage ta Khazan with your pockets full of gold and from there ya can strike out to grab yer fortune. Ya see, I was where you are, when I was younger. Many is the friend I've buried or left to rot in a Tunnel with a Troll hot on my heels looking ta toss me in his pot fer dinner. This way there's strength in numbers."
"How many?"
"As many as I can sign up! A hundred sell swords! More, probably."
"What? How would we all fit on a boat?"
"One boat?" chuckled Rathmere. "Laddie, have you been down to the dockside? The Merchant fleet is thirty strong, fat ships laden with goods. It has a dozen smaller ships as war escort, but by small I mean enough to take a force of thirty sellswords
each
. My job is ta fill in the gaps to crew them fully with fighting men, women and... whatever else ye identify as. I ain't fussy."
"Gaps?"
"Aye. Gaps. Some don't take ta the sea, others fall in battle. Some faint hearts can't follow orders or exhibit cowardice. Any crew o sell swords that doesn't do their duty gets a days' pay docked at a minimum, dependin' on the crime."
"That doesn't sound so bad!" called a voice from the back.
"No? Well one crew were yellow as they come and lily livered. Downed swords at the first sign o trouble and tried ta surrender. When we won th' battle we stripped them o clothes and stuff and tossed them in th' hold as oar slaves. When we got to Khazan they was sold ta th' Arena. Another time we tossed the cowards overboard fer the sharks."
"Sharks? What be them?" asked a country bumpkin with a pitchfork as his weapon and a tin pot as his helmet.
"
Big
fish lad, with the biggest teeth you never want to see. Mean...And they are mean... Lots o different sharks in the sea boy, but these things will make you never want to dip your toe in the ocean after you see 'em." he looked about, puffing on his pipe as he appraised those present. "Think on all I've said but don't dally. I leave when the sun dial strikes midday, not long from now." he said before gazing over those gathered and adjusting his hat.
With a nod Rathmere walked away, calling out for Sell-Swords, Adventurers, Wizards, Rogues and those who seek adventure and fortune!
Two weeks, twenty gold a day, fed, a bed or hammock at any rate in which to sleep, plus passage to Khazan and access to the lands around that city which are rumoured to be laden with treasure stacked ruins and tombs... Of course, Khazan was a City ruled by Urucks and their Kin but even so... it provided a start better as a prospect than running out of money and labouring for a pittance...
You look around...
OOC And see each other, amongst others. Maybe you want to chat about what you've heard, see what others think...

When you need to make an SR I'll ask for a roll or (to speed things along) might just make the roll anyway on our Dice room. Please arrange your posts:
<Character Name>
<In character stuff - what you say, think feel>
<Actions - what you do>
Example:
Petrik the Peasant Warrior
Petrik mopped his brow, but his sleeve was already sodden so that didn't do much. He scratted his hair. Chances were he'd need his yearly bath one o these months but he doubted it would dislodge what lived there. He looked about. There was this guy with a fine head of hair who looked a bit of a dandy, but had a sword so best not to say owt. There was a fellow with robes on looked like he was sweatin' buckets. Smart lookin' type. Maybe a scholar or... Petrik shifted uneasily, one o them Wizardly types. Best stay away from him... and the one next ta him. He looked carved from rock with muscles on muscles and a bull neck like one o them dogs that chased Petrik that time. He winced as he remembered the bite on his arse. The Dwarf had a notched axe in his belt and a club tipped over his shoulder. He looked like he could use both. At the same time. Petrik smiled nervously showing gapped teeth and shuffled away from the trio.
ACTIONS
Petrik picks at his fleas and ticks and at his nose. He's going to hang about and see if this bloke with the weird dress sense will take him on. he can't fight - or do much of anything - well but can lift boxes and sleep just about anywhere, which is something, right?