Post by apn on Nov 4, 2022 8:37:30 GMT -5
The Vampire purred "More than just a pretty face" with a stroke of a finger along Wills chin.
With several hand gestures - some sort of sign language? - Chu Tzan has a young crew member hurrying up with a map.
Content for the moment the ship - though damaged - is steering above or between mountain peaks the Second Officer lays the map out on a table on deck.
Sheltered from the rain by a short roof the winds are still sufficient that the map corners need weighting down with handy weights on the table for that purpose.
"I believe..." said Chu Tzan "We are somewhere around here... and that the fleet must be... around here?"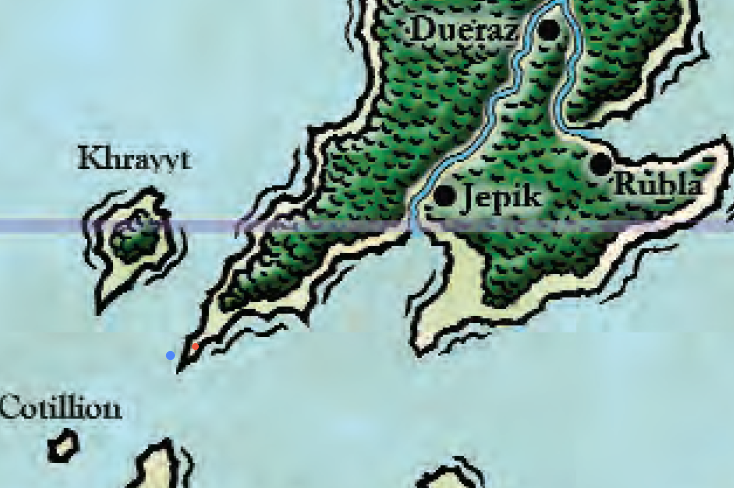 OOC Blue Dot = estimated location of Fleet
Red Dot = estimated location of the Horizon Flower
"We have had much lost time to deal with." growled Hang Tze. "The storms have lost us time whilst allowing the fleet to use the trailing winds to speed their way around the coast and make distance. It is no surprise that our Third Officer chose the short route to make time up..."
"...and yet to pass over or through our sovereign lands..." stated the Vampyre.
"...without knowledge they were there..." interjected Chu Tzan.
The Vampire sighed. "We can go around in circles all you like, Easterners. We MUST protect our home, one we chose to avoid contact with places like Jepik and that new town of Jepistra along with others. We have enough troubles with Elven Rangers, Urucks, Dragons, Adventurers following old maps and other Undead who are not as... careful as we are. Suffice to say anyone who transgresses will be warned off. If that does not work we must defend our home and limit or eliminate knowledge of it!"
She holds up a hand forestall further argument. "This gets us nowhere. I am, however, intrigued by the suggestion from this young man with the fine but rain bedraggled hair. As a show of... good..." she practically spits the word "
Faith
we return to you..."
From nowhere - or rather from underneath the ship boil hordes of spherical formations of bats, dozens of them! They whirl about then approach the ship! Hang Tze reaches for his swords, Chu Tzan readies his spells...
What now?